Registration process and payment for all attendants/participants
Creating users on the registration platform Bubela
All attendants and participants need to register on the University of Vigo Conference registration platform, 
Bubela.
To create a user name on Bubela:
Type your (First) Name and Surname
Select as Document type 'Identity card or Passport' and type your Document (i.e. Identity-card/Passport) number
Select Nationality
Select Gender
Type E-mail address
Suggest your Username (4-to- 15 characters)
Type your Password for this platform

Now you have a user on Bubela.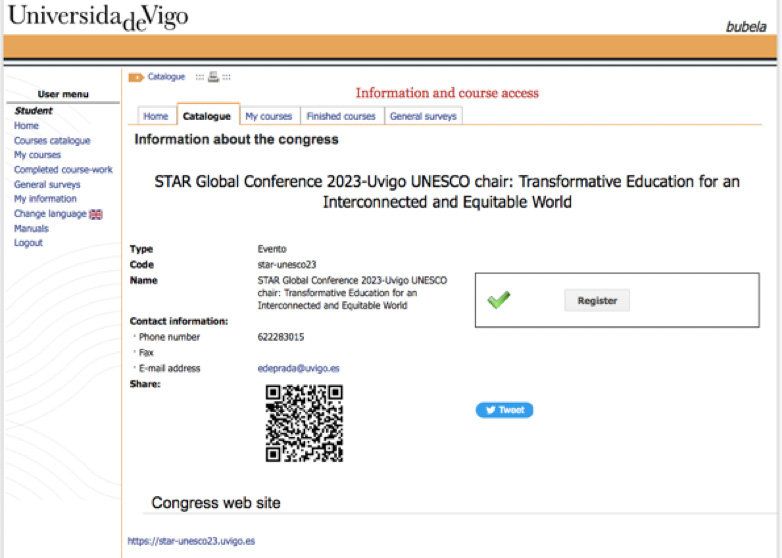 You will have to provide additional information about your institution, type of participation, attendance at the conference dinner, etc.
Registration fees. Select the applicable option (see https://star-unesco23.uvigo.es/about/registration-rates/).


If you wish to join the conference dinner (40€), select the corresponding conference fee.
Click on OK. You will get the message "If you continue, a card transaction amounting to xxx€ will be generated".
Independent of whether you will pay by credit card or by bank transfer, click on "Continue" so that the registration process can be completed.
Now the options are: PAYMENT BY CARD or CANCEL ENROLMENT:

a. Click on PAYMENT BY CARD if you want to pay by credit card, Bizum, or GooglePay (preferred option for us), type the card owner's name and select Pay. Then you will leave the Bubela platform and connect to our bank's (Abanca) payment gateway.

b. Click on CANCEL ENROLMENT if you do NOT want to pay by credit card, Bizum, or GooglePay but by bank transfer. Please select this option only if you cannot pay with your credit card, Bizum or GooglePay.
These are the details:
Account IBAN: ES14 2080 0501 12 3110000112
Account BIC: CAGLESMMXXX
Bank: Abanca, Vigo
Account's owner: Universidade de Vigo

Very important: please add your name and conference code: INV00220
Send proof of the bank transfer to the conference organizers (star-unesco23@uvigo.es). If you are a student, please send proof of it to the conference organization.
The Universidade de Vigo, CIF/Tax no. Q8650002B will issue official payment certificates to participants or institutions that have transferred the fees or have paid by credit card. If you need a certificate, please send an email to star-unesco23@uvigo.es and provide details about your registration.